Imagine a C-level executive at your dream company just read your bio.

What story did you tell them?
That you're boring? That you're just like every other candidate applying for the position? That your best chances of being hired are if they threw up their list of candidates on a dart board and chose them at random?
Or did you write something compelling? Something that makes people feel like they know you?
We don't want the cliff's notes of your life. We want your story to reach out and grab us. After all, today's digital hiring environment requires more than a number on a business card. It requires:
A LinkedIn bio, highlighting your passion, your experience, and the reason why you're in the business
A personal statement for cover letters and applications, designed to win the attention of reviewers
An About Me / About Us section that instantly humanizes you to your audience / customers
And it requires that you avoid this #1 mistake I see in online bios today.
Don't summarize. 
Put their imagination to work.
People remember stories. They remember what moved them. They remember that one juicy anecdote about your background that sums up who you are and why you need to be the next person working with them.
Here's what they don't remember. They don't remember static lists of accomplishments, great as they may, that fail to connect with them on an emotional level. They don't remember Cliff's Notes. They remember the stories that gripped them and forced them to turn the page. 
Let's write you one of those stories.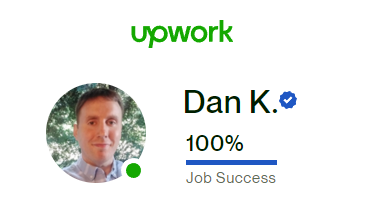 Dan is phenomenal! His writing was beyond my expectations in providing a high-quality LinkedIn Summary that was professional, personable, quality content - and helped me land my dream job.
Dan's like the William Shakespeare of bios. I work in real estate, where people have to trust you with one of the most important financial decisions of their lives. People have to know you. And many of my clients feel like they know me after simply reading about me. Take my advice: hire him before he's only available by referral.
Dan is very responsive and tailors his questionnaire with just the right questions to get a well-rounded picture of you so he can craft a well-written bio. With his previous reviews, I expected a lot, and he did not disappoint. What I received was a phenomenal and nuanced bio that did exactly what I requested.
I call Dan my "secret weapon." He cuts right to the most intriguing part of your background to craft a memorable story. He can take a dry resume and make it sound like you're the only one on Earth who's 100% perfect for the position you want.
"Dan, you have a gift for this."
"You are everything I thought you would be. Great working with you."
Frequently Asked Questions (FAQ)